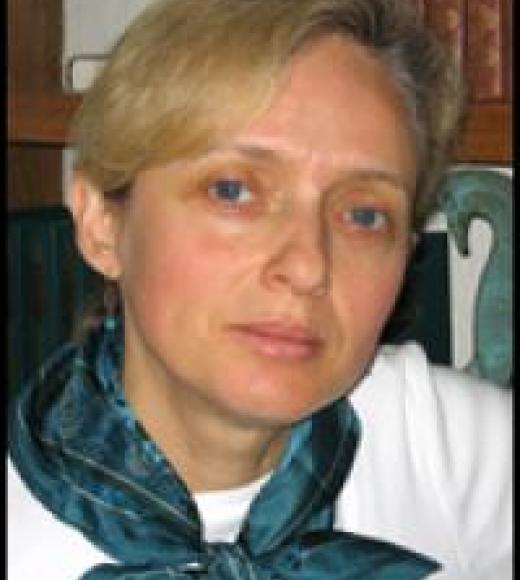 Position Title

Associate Professor Emerita of Russian
Bio
Education and Degree(s):
Ph.D. in Comparative Literature, University of California, Davis (2004)
M.A. with honors, Moscow Institute of Foreign Languages (Moscow, Russia, 1984)
Research Interest(s):
Nationalism and Literature
19th-century Russian and English Literature
Dostoevsky
Course(s) Taught:
Russian 42: Survey of 20th-Century Russian Literature
Russian 103: Literary Translation
Russian 126: Russian Theater
Russian 128: Twentieth-Century Russian Poetry
Russian 130: Contemporary Russian Culture
Selected Publications:
Books
The Nation as Invisible Protagonist in Dickens and Dostoevsky: Uncovering Hidden Social Forces within the Text (The Edwin Mellen Press, 2006)
Articles
"The Subaltern Syndrome and Dostoevsky's Quest for Authenticity of Being," The Dostoevsky Journal, 5 (2004).
"The Nation-less State of Great Britain and the Nation-State of France in Household Words," Victorian Periodicals Review 38:4 (2006).
"The Hypothetical Nation and the Superfluous State: The Nationalist Symbolism of The Devils," The Dostoevsky Journal, 6 (2006).
"Bleak House as an Allegory of a Middle-Class Nation," Dickens Quarterly, XXII/3, 2006: 147-168.
"Autocratic Capitalism as the Political Unconscious of Dostoevsky's Devilsand A Writer's Diary, The Dostoevsky's Journal, 7 (2006).
"Ridiculous Dream vs. Social Contract: Dostoevkij, Rousseau, and the Problem of Ideal Society," Studies in East European Thought, 59: 1-2 (2007).
"The Concept of Integral Reason in Crime and Punishment," forthcoming in the special issue of Dostoevsky Studies (2009).
"Tolstoy's Family Happiness and Dickens' Bleak House," (in Russian), forthcoming in Leo Tolstoy Fifth International Academic Conference Proceedings (2009-2010).