Winter 2024 Courses
---
Lower Division
RUS 002 Elementary Russian
Liliana Avramenko
RUS 005 Intermediate Russian
Jekaterina Galmant
 
Russian 5 is designed as a continuation of Russian 4 and promotes pronunciation and grammar, as well as the development of listening, speaking, reading and writing skills, with an emphasis on communicative skills, through compelling conversation topics, creative presentations and engaging discussions.  The course integrates new vocabulary and syntax into previously acquired language. The purpose of the course is facilitate a maximum exposure to the language and culture and to give the student the opportunity to use Russian as much as possible. 
 
Prerequisites: RUS 005 or Language Placement Test
Textbooks: OER, no required materials for purchase
 
Upper Division
RUS 101B Advanced Russian
Liliana Avramenko
RUS 120 Humor and Comedy in Russian Culture (taught in English)
Victoria Juharyan
Russian culture is more than grim snowy landscapes and old bearded men pondering philosophical questions! This course will introduce students to some of the greatest—and funniest—works of Russian humor and comedy from the 19th-century to the present day. We will read works by classic authors such as Nikolai Gogol and Anton Chekhov, as well as by well-known Soviet satirists such as Mikhail Zoshchenko and Mikhail Bulgakov. We will view several films from the Soviet period, including a musical comedy from the 1930s—Joseph Stalin's favorite film! We will explore how writers, dramatists, and filmmakers have responded to the varying historical and political contexts of both Imperial Russia and the Soviet Union with works of humor and satire. Under the repressive conditions of both prerevolutionary and Soviet society, comedy has been an important form of subversion, a key way of challenging dominant power structures. Throughout the quarter, we will attempt to define the salient characteristics of "Russian humor," and to reflect upon what these characteristics reveal about Russian culture as a whole. And we will laugh early and often! (Taught in English, no knowledge of Russian required, but Russian speakers are encouraged to read all of the texts in the original.)
Required texts:
- Mikhail Bulgakov, Heart of a Dog, trans. Mirra Ginsburg (New York: Grove Press, 1968). 
- Venedikt Erofeev, Moscow to the End of the Line, trans. H. William Tjalsma (Evanston: Northwestern University Press, 1994)
- Other readings uploaded to Canvas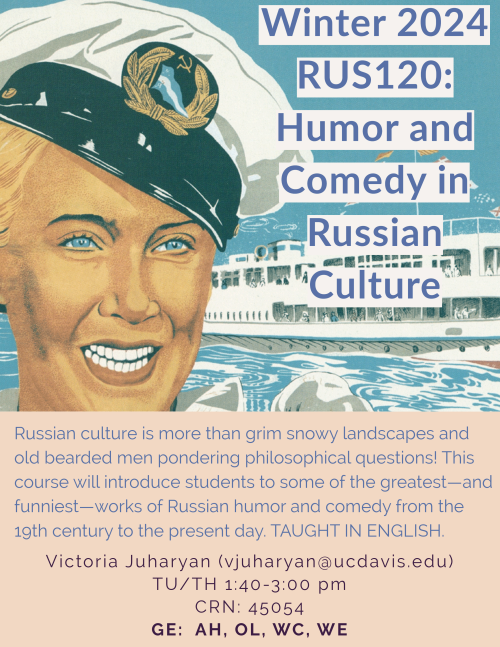 RUS 139 Pushkin
Victoria Juharyan
In this course, we will read and discuss Alexander Pushkin's poetry, his novel in verse Eugene Onegin, and many other works in their  original Russian. We will cover three major periods of Pushkin's poetical works: his early Lyceum  verse; his poetry of the early 1820s; and the mature period of 1830s, as well as study Pushkin's prose fiction, drama, and journalism.